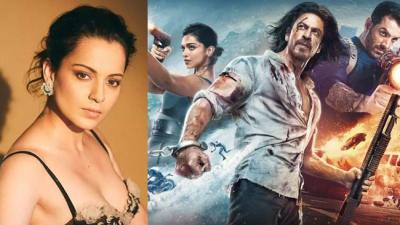 Multiple National Award winner Kangana Ranaut is an actress who never shies away from speaking her mind. She often lands herself in controversies due to her bold and no holds barred comments on the bigwigs of Bollywood. She has hatred toward Karan Johar and often called him as the 'Flag Bearer of Nepotism'. She criticized the culture of Nepotism and the domination of a few families in Bollywood.
After a huge gap, her Twitter account became activated again and it looks like she is not at all liking the fact that the entire Bollywood is celebrating the success of SRK's recent release 'Pathaan' which is running successfully at the box office. She wrote, "All those who are claiming Pathan is triumph of love over hate,I agree but whose love over whose hate? Let's be precise, whose is buying tickets and making it a success?Yes it is India's love and inclusiveness where eighty percent Hindus lives and yet a film called Pathan Which shows our enemy nation Pakistan and ISIS in good light is running successfully, it is this spirit of India beyond hate and judgements that makes it Mahan… it is the love of India that has triumphed hate and petty politics of enemies."
She added, "Lekin all those who are having high hopes please note… Pathan sirf ek film ho sakti hai … goonjega toh yahan sirf Jai Shri Ram... I do believe Indian Muslims are patriotic and very different from Afghan Pathans … the crux is India will never be Afghanistan, we all know what is happening in Afghanistan,it's beyond hell there, so apt name for the movie Pathan according to its storyline is the Indian Pathan."
Produced by Aditya Chopra, Satchith Paulose is the director of photography. Siddharth Anand wrote the story and directed this film while Shridhar Raghavan penned the screenplay. Salman Khan played a special cameo in this movie. Deepika Padukone is the heroine of 'Pathaan' while John Abraham is the villain.