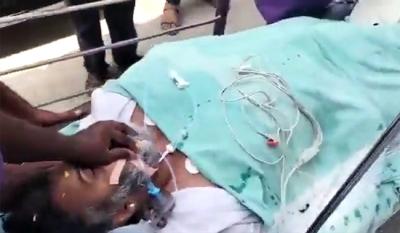 The Yuva Galam padayatra started by Nara Lokesh took an unfortunate turn after Nandamuri Taraka Ratna lost consciousness and fell down. He was immediately taken to the nearby hospital for treatment. The issue raised many eyeballs as the Nandamuri hero is taking an active part in the party activities these days.
Nandamuri Balakrishna and other party leaders reached the hospital immediately. It is said that there are a few blocks on the hero's heart valves. Around 90 percent of valves are said to have been blocked and all this was identified as [part of the medical tests performed on him.
Though the hospital treating Taraka Ratna is yet to give updates on his health, Nandamuri Balakrishna told the media that his health is stable now and there is nothing to worry about. Saying that he will be shifted to Bangalore, Balakrishna said as per the doctor's advice he is shifted.
Having said that Nandamuri Balakrishna reportedly said that Taraka Ratna would be shifted to Bengaluru on a road route and the arrangements are underway for this. However, he urged everyone to not worry about Taraka Ratna's health.
As per the information, primary assistance was given to Tarak Ratna and CPR was performed on him and the body returned to its original color. This helped his condition to be back without installing a stent. He fell down unexpectedly while walking.