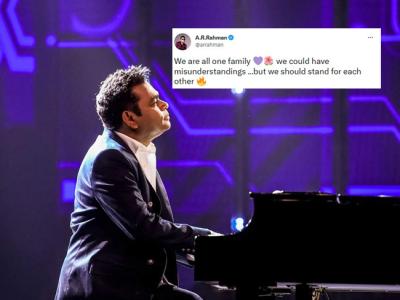 Oscar winner AR Rahman is very keen to see MM Keeravani win the Academy award this year for 'Naatu Naatu' song from 'RRR' which is creating history. The magical composer says that it is a huge achievement and is very positive towards the team.
He said, "It is not easy to go beyond this prejudice. They have done a tremendous job. This happened, it is a huge achievement. People are not apologetic about dancing to a Telugu/Indian beat. This should happen again and again in every industry. When we become leaders, it will be amazing. MM Keeravani is an underrated composer. I tell my children that he has been working for 35 years and wanted to quit. Then his career started. I want RRR to win the Oscar."
When a netizen commented, "But Andhra people still hate Tamils..But we people love our enemy", AR Rahman replied, "We are all one family. We couple have misunderstandings…but we should stand for each other."
This tweet is getting appreciated a lot and let us hope that his wish of 'RRR' getting the Oscar becomes true.
'RRR' is considered the pride of Indian cinema and a lot of Hollywood writers are praising the movie. The foreigners are going crazy about this flick and are praising Rajamouli for his brilliance. The 'Baahubali' director has won several international awards and the entire nation is hoping that he and his team would bring the Oscar home on March 12th when the awards ceremony is held in America.