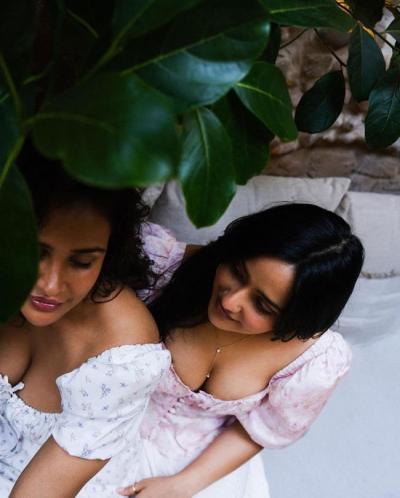 Despite not having any films in their kitty, the 'Sharma' sisters are quite popular among the netizens. Their stunning photoshoots and scintillating glamour show are the main reasons for their huge craze on social media. Both Neha Sharma and Aisha Sharma compete with each other in terms of skin show and raise the temperatures to a whole new level.
Recently younger sister Aisha Sharma took to social media and uploaded a few clicks. She wrote, "25.01.2023 : Aisha's Musings: I believe in Birthdays, I believe in loving myself all day, everyday, in every way. I am grateful for the love, is all I can say. 25th of Jan feels like a holiday. Something magical about making wishes. I believe in happiness more than Riches. 11:11 and stolen kisses. My emotions are true, my poetry has over a hundred glitches."
It looks like she had a great birthday and the sisters did not fail to provide a beauty feast as they looked drool-worthy in the low-neck white outfits where they flaunted their assets in the most alluring way possible. These clicks are currently going viral.
As we know, Aisha Sharma is the younger sister of Neha Sharma who is well known to the Telugu audience as the heroine of Ram Charan's debut film 'Chirutha'. The beauty is yet to make her silver screen debut and people are waiting to see her exquisite beauty on the big screen soon. Aisha is 33 years old and she has 2.7 million followers on Instagram.