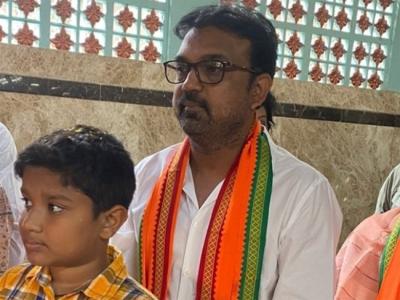 Star director Koratala Siva is under huge pressure right now. He scored his first flop in the form of 'Acharya' in 2022. Though his previous blockbusters showcase his quality, the level of disaster 'Acharya' became stunned many. The money was returned to the distributors and there were a lot of news over Chiru blaming Koratala for the movie's failure at the box office.
He got a golden chance in the form of #NTR30 but it is Tarak's immediate film after 'RRR' and there is an added pressure on the 'Srimanthudu' director now. Also, he needs to prove himself and showcase that 'Acharya' is just a blip in form and that he can deliver super hits. In order to make the script perfect, he spent a lot of timing at the writing table.
Despite all the outrage from Tarak fans, he took ample time to ready the script. The shooting is going to begin in February and it looks like Koratala is seeking divine blessings before the release. Known for his calm and composed nature. He is also a bit inclined toward the left ideology but he took the right route this time.
He visited Tirumala temple recently and he offered prayers at Pithapuram temple, Kakinada. He is doing everything he can to give a comeback and let us see if it happens or not.
Ratnavelu is the cinematographer while Anirudh is the music composer for this film. This movie will be produced by Yuva Sudha Arts and NTR Arts banners. After that, he will be joining hands with 'KGF' and 'Salaar' fame Prasanth Neel. This movie is expected to start after October 2023.