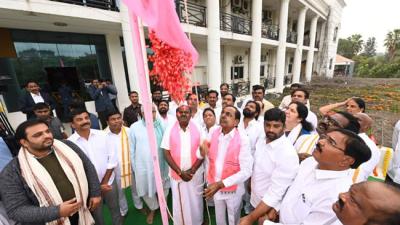 The TRS party has now become BRS. The election commission accepted the request made by the party leadership and sent a letter saying the same. Telangana Chief Minister KCR signed on the latter and the new party flag was unveiled. Indian map replaced the Telangana map in the flag.
Now the discussion on where the BRS will contest next has started. The latest information is that the party might make its big step in the neighboring state of Karnataka. The state enjoys a good Telugu population there and the grand old Congress is not looking strong.
The likes of Janata Dal (S) leader H.D. Kumaraswamy, and film actor Prakash Raj were present when KCR announced the BRS flag today. As the two hail from Karnataka experts are saying that BRS might try its luck there.
Former Chief Minister H.D. Kumaraswamy is also working on making his party strong in the state and coming to power. KCR should have a good vote percentage in at least three states to officially get recognized as the national party.
The BRS is in power in Telangana and as teh second state to run the polls the party might choose Karnataka. Moreover, the BJP is in power there and KCR decided to enter national politics to take on the mighty BJP. He might use the same stand to win the polls in Karnataka.