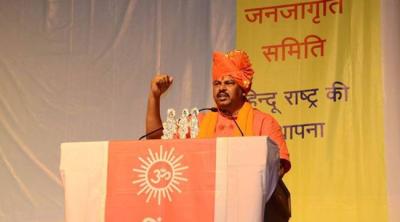 After a long fight, Bharatiya Janata Party firebrand MLA from Telangana Raja Singh managed to walk out of the prison. The controversy which started with the Gosha Mahal MLA reportedly making objectionable comments against a particular religion took many twists and he was suspended from the party. He was sent to prison.
The happiness of walking out of the prison did not last too long for the MLA as his action brought him another case. Based on an objectionable post cops reportedly filed a case against him. When asked for an explanation, the MLA did not give a satisfactory answer and a case was filed.
It is known that he was given conditional bail and was directed to not make any controversial comments or make posts on social media. Not following this, Raja Singh reportedly shared a post on social media on the day of the Babri Masjid demolition remembering a few people who were killed on the day.
Seeing this, the cops asked why he shared the post. But he did not give a satisfactory answer. With no option left, the cops are believed to have filed a case against him.
A few days back the concerned cops served notices to Raja Singh. As the response he gave was not satisfactory the cops booked a case against him bringing another headache. While the previous case is going on, he faced another shock.