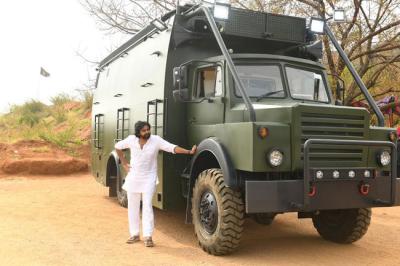 Janasena chief Pawan Kalyan has shifted his focus to the next general polls. He is aggressively targeting the ruling YSRCP on various issues. His image as a leader has increased massively thanks to the events held by his party. Though issues like Ippatam backfired Pawan Kalyan's image improved.
Pawan Kalyan wants to extensively tour the state to know the issues faced by them. Meeting them will give him a big chance for Pawan Kalyan to make a strong connection and give them hope that he is with them. To support the yatra, Pawan Kalyan ordered a specially designed vehicle.
Though Pawan Kalyan wanted to get the vehicle ready in other places he reportedly changed his mind and the required work was done in Hyderabad only. The vehicle was named Varahi which is a modified van. The vehicle is ready and handed over to Pawan Kalyan.
Pawan Kalyan took to Twitter to share pictures and video of his vehicle. In the pictures he shared Pawan Kalyan can be seen looking at the vehicle and overseeing it. The modified vehicle is dark grey in colour and looks solid.
Varahi looks very familiar to the Chaitanya Ratham used by the founder of Telugu Desam Party NTR. Pawan Kalyan fans and Janasena followers are hoping that like NTR the yatra might also help Pawan Kalyan and he would show his potential in the next elections.
Pawan Kalyan entered the 2019 polls with a lot of expectations and lost both the seats where he contested. As his image increased now his fans are hoping to see him in a good position in the next general polls.