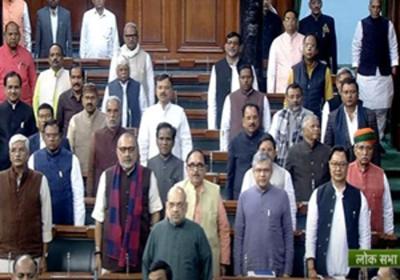 This year was very cruel for the Tollywood industry as we lost two legendary actors in a span of a few months. Rebel Star Krishnam Raju and Superstar Krishna passed away this year. While Krishnam Raju passed away in September Krishna left us on the 11th of November.
Now, legendary actor Superstar Krishna received a tribute from the Parliamentarians. As the winter session of the house started earlier today, the representatives paid their rich tributes before starting the sessions. After the tributes, the house was adjourned till noon.
The Lower House of the Parliament, the Lok Sabha paid tributes to leaders who breathed their last this year. Besides Ghattamaneni Krishna, others like former Union Defence Minister Mulayam Singh Yadav were also paid tributes by the members.
The Tradition of remembering the departed leaders before starting the winter sessions has been going on for a very long time. Following the same, the speaker mentioned the names of Lok Sabha members who passed away this year. Eight members were paid tributes.
Mulayam Singh Yadav Jhadu Suner Lal, Debi Ghosal, Rupchand Pal, Gobinda Chandra Naskar, Than Singh Jatav, Manikrao H. Gavit, Jayanti Patnaik, Ghatamaneni Krishna are the members who received tributes from the Parliamentarians.
It is known that Superstar Krishna entered politics and even served as a Lok Sabha member. Speaker mentioned the same and highlighted the illustrious career of Krishna. Speaker Om Birla mentioned how Krishna acted in over 350 films in his career.
Superstar Krishna was attracted towards the grand old Congress and even joined the party. After Rajiv Gandhi invited him, Krishna became a part of the party and worked for it. He was given a chance as a Lok Sabha candidate from Eluru. He defeated the Telugu Desam Party leader Bolla Bulliramaiah. In the next polls, the TDP leader defeated Krishna.
 On the encouragement of Rajiv Gandhi, Krishna made films against NTR directly questioning him on the policies he implemented. He also made a film blaming the Telugu Desam Party for the death of Vangaveeti Mohana Ranga. The film showed that the government planned the murder and killed Ranga with a plan.