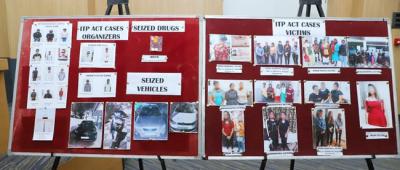 As another big success for the Cyberebad Police, the officials busted an interstate sex racket in Hyderabad the other day. The racket also has international links as victims from other countries were also forced to enter the racket by the organisers. Hundreds of victims are rescued by the concerned officials.
After the racket was busted the cops started digging deeper into the case to unearth new details. The latest news is that around 14,000 victims were rescued by the cops. The accused in the case are wanted criminals and were accused in many cases in the past.
In many cases, the accused in the case Mohammed Adeem, Arnav, Arora, and Nikhil are wanted. Mohammed Adeem is said to be a kingpin of the racket and many cases are pending against him in a few police stations. The search operation for the accused is going on and finally, they were arrested.
The racket runs in a way that victims from various cities in the country like Mumbai, Kolkata, Vizag and Delhi, and other nations are lured into business. They use WhatsApp and other platforms to run the business. Pictures and videos of the victims were sent to customers and then they were selected by them.
Media reports say that the accused have pictures of around 49,900 girls on their phones. The pictures of the women are said to be of them who are a part of the racket. Women from countries like Bangladesh, Nepal, Thailand, Uzbekistan, and Russia were also victims.
After gathering various details the victims were rescued. News agency ANI quoted a few officials as saying that around 14,000 victims were rescued from the racket. A few vehicles were seized and drugs were also seized by the Cyberabad Police department. The Anti-Human trafficking wing busted the racket that runs online.
On December 6th, which was yesterday the Cyberabad Police took to Twitter to share the details of the racket. Pictures of the accused were also released. "#Cyberabad's Anti-Human trafficking unit has busted a online #SexRacket,which trafficked 14,190 victims from various states of India since three years. It is our collective duty to respect women and extend a helping hand by being vigilant & alerting authorities. #CyberabadPolice," the Police said in the Tweet.