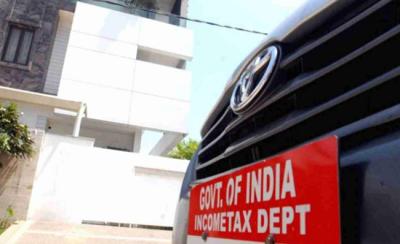 Central agencies conducting raids is not a new thing and the practice has been going on for a very long time. For the past few decades, the agencies have been doing their work. But the work of the agencies became controversial and debatable in the past few years.
Since the Bharatiya Janata Party came to power the opposition parties are alleging that the party is using the central agencies to target the opponents. Adding fuel to this the agencies only conduct raids targeting leaders of other parties as if the BJP leaders are very clear and fair.
The central agencies are now targeting Telangana of late. Yet again the IT department conducted raids in Hyderabad at the residences and offices of a popular builder. Houses of the builder's relatives are also raided as per the information.
The media reports say that multiple raids are going on including at the residence of Subba Reddy, chairman of Vamsiram Builders, and his brother-in-law in Jubilee Hills. Multiple teams of the IT department are allegedly on the work.
Casual raids will not be big news. But the raids are in the news as reports say that a few leaders from the ruling TRS might have made investments in the company without their direct involvement. To unearth the alleged links raids are going on.
With alleged TRS links in the raids, the TRS supporters suspect a conspiracy to target the ruling party as TRS and BJP are locking horns. To target the TRS the raids might have been planned as per their version.
Giving the example of how multiple raids were carried out at the residence and offices of Minister Malla Reddy and his relatives over alleged irregularities in his educational institutions, the TRS supporters are smelling a conspiracy. They are also talking about the alleged Delhi liquor scam and the Central Bureau of Investigation(CBI) mentioning Kavitha's name in the First Information Report.
As the Gujarat elections fever is over, the BJP is said to have shifted its focus to other states including Telangana. The ongoing IT raids can be a part of the efforts by the saffron party.
Note: Your feedback is very important to us. Post them in the comments box down below. Be sure to give us your opinion no matter what. Please do not use abusive language. There are better ways to speak your mind.