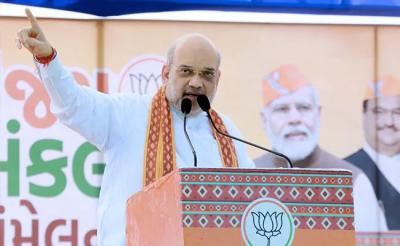 All eyes are now on Gujarat as one of the richest states in the country will see general elections tomorrow. In two phases the election will be held and the first phase will be held on Thursday. The BJP wants to record another win and prove that the state is a strong hold of it.
The Delhi party AAP wants to foray into the state and it is even projecting that it can come to power in the state. The Delhi Chief Minister is implementing the same Delhi model and making a slew of promises to the voters of Gujarat.
Everyone knows that the free promises helped AAP to come to power in Delhi and Punjab. He wants to try the same tried and tested model in Gujarat too. Just like Delhi, he is promising free current and other freebies. But the question is whether Gujarat voters fall for his promise.
"I am a Baniya and I have some understanding of accounts. I am educated and an engineer," the Chief Minister said addressing diamond traders. He wooed the traders' community in Delhi with the same comments.
Despite all this, the Bharatiya Janata Party seems to be not taking AAP seriously in the polls. Someone like Union Home Minister Amit Shah reacted to the Delhi party's contest in the polls and said that it cannot pose a threat to the BJP.
Saying that any party can contest in the polls, Amit Shah maintained that people in the state are not thinking about AAP and that the party cannot win at least a single ticket.
"Every party has a right to contest elections, but it is up to people whether they accept the party or not.AAP is nowhere in the mind of the people of Gujarat. Wait for election results, maybe AAP's name would not figure in the list of successful candidates," Amit Shah said talking about AAP.
There is a point in Amit Shah's version. Gujarat has been a stronghold of the Bharatiya Janata Party for a very long time. For the past 35 years, the state has been seeing the saffron party in power. Before becoming the Prime Minister, Narendra Modi served as the Chief Minister of Gujarat. Amit Shah also hails from the state.
Note: Your feedback is very important to us. Post them in the comments box down below. Be sure to give us your opinion no matter what. Please do not use abusive language. There are better ways to speak your mind.