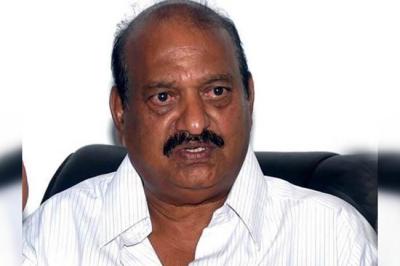 JC Prabhakar Reddy is dubbed a firebrand leader for his aggressive nature. His no-filter talk always makes him stay in the news. He faced a big blow with the alleged irregularities in bus purchases issue. The case investigation has been going on for a few months now.
The economic intelligence agency Directorate of Enforcement which has been probing the matter gave a big shock to JC Prabhakar Reddy who is serving as Tadipatri Municipal Chairman now. The central agency had attached assets worth Rs 22.10 crores in connection with the case.
The assets attached belong to Diwakar Roadlines, Jatadhara Industries. JC Prabhakar Reddy's aide Prabhakar Reddy's assets were also attached in the case as per the information. The assets attached include Rs 6.31 crores(cash, ornaments, and bank deposits) and assets worth Rs 15.79 crores.
The case filed against JC Prabhakar Reddy in connection with the buses scam was filed under the provisions of the Prevention of Money Laundering Act, 2002. JC Prabhakar Reddy is a big name in the travel business as the popular JC travels is run by the JC family.
The buses run by JC travels company travel all over the Telugu states and a few buses go to places like Bengaluru and Chennai too. But there are a few violations and irregularities in the process of bus registration and after digging deeper into the case the ED unearthed a few details.
Based on the emissions that come from the vehicles they are classified as Bharat Stage aka BS. Considering the recommendations new stages are brought while reducing the usage of old stages.
It is said that there are a few irregularities in the registration process and BS-III vehicles were registered as BS-IV vehicles with the help of fake documents. This is a big issue and under this, around 150 buses were seized reportedly.
The registrations were done in Nagaland and other northeast regions. After a few complaints were filed against him by the owners of the buses, a case was filed and a probe started.  JC Prabhakar Reddy and Asmith Reddy were named in the FIR earlier and they were even arrested and sent to jail.
Note: Your feedback is very important to us. Post them in the comments box down below. Be sure to give us your opinion no matter what. Please do not use abusive language. There are better ways to speak your mind.