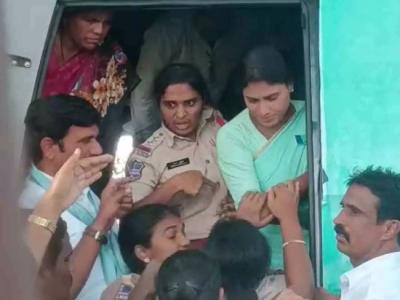 YS Sharmila daughter of late Chief Minister YSR is aggressively going ahead in Telangana politics. She is banking heavily on the claims of bringing Rajanna Rajyam, ruling of her father in the divided Telangana. For that, she is using the Padayatra which has been going on for over 22 days.
But the yatra turned violent after the caravan she was using was burnt. The viral videos show people rushing towards the caravan and setting it ablaze. Luckily Sharmila was not present in the caravan when the issue happened. YSR Telangana Party, Sharmila's party alleged that the TRS party was behind this, and MLA's supporters burnt the vehicle.
Initially, Sharmila used to treat only KCR as he was aiming for the Chief Minister's post. But she started targeting other leaders in the party as the TRS legislators made some objectionable comments towards her. Sharmila has been lashing out at the TRS leader at regular intervals.
As the yatra reached the Narsampet region today, Sharmila targeted the local MLA Peddi Sudharshan Reddy. This did not go well with the TRS activists and supporters of the MLA. They reached the spot where the caravan was and set it on fire.
Now the issue took an unexpected turn after YS Sharmila was reportedly arrested. It is said that the YSR Telangana Party chief was arrested at Channarao Pet earlier today. After arresting a few people who raised slogans against Sharmila, she was also arrested
Breathing fire on the ruling party on this, Sharmila said that the whole episode was a vendetta. She asked why she was arrested when she sought all the permissions earlier and the yatra has been going on for over 200 odd days.
Note: Your feedback is very important to us. Post them in the comments box down below. Be sure to give us your opinion no matter what. Please do not use abusive language. There are better ways to speak your mind.