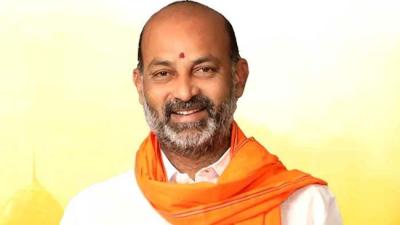 The massive Padayatra planned by T-BJP chief Bandi Sanjay Kumar took a big turn after permission for the yatra was not granted and he was arrested. Saying that the yatra might cause a law and order problem in the Bhainsa town the permission was not granted.
Bandi Sanjay who pinned high hopes on the yatra decided to challenge the matter in the Court and he moved the High Court. Hearing the petition, the court permitted Bandi Sanjay and also directed him to follow certain guidelines.
Though Bandi Sanjay's 'Praja Sangram Yatra' was allowed the High Court asked him to not hold his meeting within a radius of 3 km from Bhainsa town. Bandi Sanjay was also asked to not visit Bhainsa as part of the padayatra.
As his line for the padayatra was cleared, Bandi Sanjay Kumar and his followers are busy making arrangements for the yatra. However, he has to follow the guidelines issued by the High Court in this regard. Only 500 people were allowed to be a part of the yatra.
As per the initial schedule, the yatra was supposed to be started on Monday after holding a big meeting in Bhainsa. But the cops entered the scene and arrested him on the way to Nirmal. An argument broke between the cops and Bandi while he was arrested.
The BJP leaders slammed the TRS government on Bandi Sanjay's arrest and alleged that the ruling party did this on purpose to spoil the plans made by the T-BJP to go for the yatra.
Note: Your feedback is very important to us. Post them in the comments box down below. Be sure to give us your opinion no matter what. Please do not use abusive language. There are better ways to speak your mind.