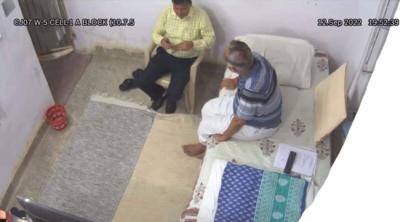 The Delhi-based Aam Aadmi Party(AAP) wants to expand its reach in other states too. After a successful trial in Punjab, it is now focusing on Gujarat, which is going for general elections in a few days. Before the general elections, AAP will face a big test with the Municipal Corporation of Delhi (MCD) polls.
Political experts predict that AAP might face a big issue and also raise doubt on whether Satyendar Jain's episode would impact the civic body polls. The treatment the MLA is receiving in prison is bringing a bad image to the Delhi government.
For the past few days, Satyendar Jain has been in the news for his alleged VIP treatment at the Tihar jail. From receiving massage to having a lavish meal he has been facing severe criticism.
Now another video of Satyendar Jain from the Tihar Jail made its way to social media and people wonder how the MLA can get such facilities. The new video shows Satyendar Jail speaking to the suspended superintendent of Tihar jail Ajeet Kumar in the prison.
The Bharatiya Janata Party is aggressively targeting AAP on this and asked how the party will defend Jain as he is having a darbaar with the jail superintendent. BJP national spokesperson Shehzad Poonawalla shared the video on his Twitter.
"Yet another video of Tihar put out by media! This time the Satyendra ka Darbaar has Jail Superintendent who has now been suspended ! After maalish by child rapist & Nawabi meal now this! This is corruption therapy of AAP but Kejriwal ji defends this! Will he sack SJ now?," he said on his Twitter.
Delhi Chief Minister Arvind Kejriwal's attack on the BJP in the alleged attempt to target AAP legislators also gave a big chance for the saffron party to shed light on the alleged VIP treatment Satyendar Jain has been receiving in his prison.
The Jail superintendent was suspended for giving good facilities to Jain. Experts say that Satyendar Jain's episode might harm the image of AAP and might also impact the winning chances of the civic body elections in the national capital Delhi.