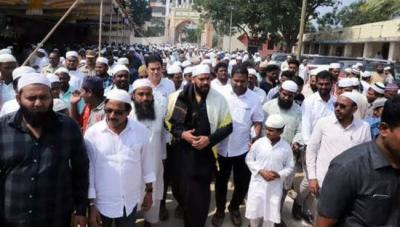 The season of Ayyappa Deeksha is going on and devotees across the nation are following the Deeksha to visit the holy shrine of Sabarimala to offer prayers to the presiding deity Ayyappa Swamy. As a big relief, the ministry of civil aviation recently announced that devotees can travel with their "Irumudis".
But now an MLA landed in a big controversy as he wore caps of another religion despite being in Ayyappa Deeksha. When he visited a Muslim-dominated area the MLA wore a skull cap. The MLA was surrounded by a few Muslims during the tour.
The MLA is none other than Anil Kumar Yadav who was a member of the Cabinet in the first phase in Andhra Pradesh. He can be seen with a skull cap on top of his Ayyappa Swamy Dress.
Without any doubt, the Bharatiya Janata Party came down severely on the MLA and accused him of insulting the Ayyappa Deeksha. BJP Rajya Sabha MP GVL Narasimha Rao took to Twitter and said wearing a skull cap when in Deeksha is nothing but hurting the sentiments of the devotees.
"I strongly condemn the actions of YCP MLA Anil Kumar who insulted the devotees by wearing Muslim caps and scarves in Swami Ayyappa Deeksha. MLAs who do not follow initiation rules should be prevented from going to Sabarimala," the BJP leader said.
Now the question is whether BJP will take any action against Anil Kumar Yadav for this. BJP always projects itself as a strong Right-wing party. But it has failed to target the YCP on any issues including the series of attacks on Hindu temples.
Note: Your feedback is very important to us. Post them in the comments box down below. Be sure to give us your opinion no matter what. Please do not use abusive language. There are better ways to speak your mind.