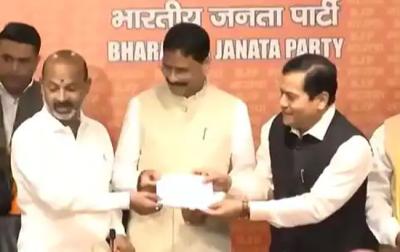 The Bharatiya Janata Party's josh in Telangana was hit hard by the recent Munugode by-polls. Despite giving its best it lost the polls. Though the margin of votes is just thousands, defeat is a defeat no matter what. The saffron party pinned high hopes on the election.
The Munugode by-election brought another headache to the Bharatiya Janata Party as the party is accused of trying to poach four MLAs by offering them big money. The case is still running in the High Court of Telangana. The TRS government formed an SIT which is probing the matter.
Amid this, the Telangana wing of BJP has something to cheer about as veteran Congress leader Marri Shashidhar Reddy joined the BJP camp in the presence of big leaders. He went to the national capital Delhi to wear the BJP shawl. The Telangana wing of the BJP took to Twitter to share the news of Shashidhar Reddy joining the party.
Marri Shashidhar Reddy joined the BJP party in the presence of Union ministers Sarbananda Sonowal and G Kishan Reddy. Telangana Party chief Bandi Sanjay Kumar, Rajya Sabha member Laxman, and BJP national vice-president DK Aruna were also present on the occasion.
Shashidhar Reddy comes from a big political family. His father is Marri Chenna Reddy who served as the Chief Minister of combined Andhra Pradesh and Governor of Uttar Pradesh. Shashidhar Reddy came under fire earlier after he met Amit Shah. Not happy with this the Congress party served him notices. He then resigned from the Congress party and announced he will join the BJP.
Note: Your feedback is very important to us. Post them in the comments box down below. Be sure to give us your opinion no matter what. Please do not use abusive language. There are better ways to speak your mind.