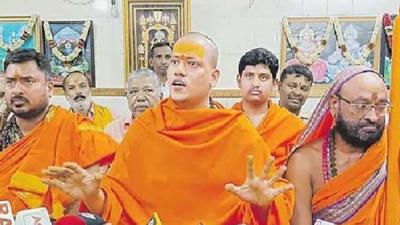 Seers follow a spiritual path and stay away from the usual world. They don't focus on the usual things common people crave like luxurious and facilities. All they focus on is praying to god. But a few seers surprised many by talking about politics and political parties.
A few seers recently visited the holy shrine of Tirumala temple. Around 30 Swamijis visited the Tirumala temple and sought a VIP darshan. However, the authorities did not accept the request which did not go well with the seers who expressed their dissatisfaction with this.
Sriyogi Peetha Seer Sriyogu Atitheshwarananda Parvatahaswami spoke to the media on this and alleged that only people with big stature are given free hand in having a darshan at the temple. The seer asked why the temple administration is not taking care of normal devotees.
Seeking a change in the TTD, the seer said that a new party would be set up in the state and through the Akhila Bharatha Hindu Mahasabha the devotees would be launched into politics and the support of the Seers of the maths in the nation would be sought if need.
It has to be mentioned here that the TTD has been involved in a few controversies for the past few years. Be it increasing the prices of Darshan tickets and various Sevas, the TTTD administration has been facing the heat. Recently an actress alleged that she was forced to pay extra money for a Darshan ticket.
Note: Your feedback is very important to us. Post them in the comments box down below. Be sure to give us your opinion no matter what. Please do not use abusive language. There are better ways to speak your mind.