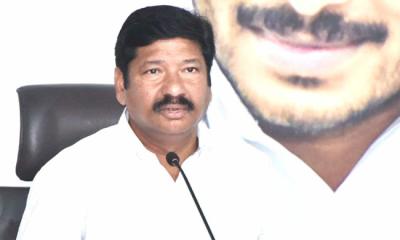 Though YSRCP MLA from Mylavaram Vasantha Krishnaprasad met party's general secretary Sajjala Ramakrishna Reddy to give an explanation about his father and former minister Vasantha Nageswara Rao's comments on YSRCP, sources say that there is more to the meet than meets the eye.
Highly placed sources say that the MLA flagged two major concerns. Vasantha Krishnaprasad raised the issue of Minister Jogi Ramesh's interference in his constituency. Jogi Ramesh, who represents Pedana, is showing undue interest in Mylavaram. Krishnaprasad reportedly said that Jogi Ramesh was trying to extend his influence to Mylavaram.
He is said to have raised the issue and asked Sajjala if Jogu Ramesh will shift his constituency. Similarly, he also reportedly raised the issue of there being no Kamma minister in the Jagan cabinet. Krishnaprasad expected that he would be made the minister after Kodali Nani was dropped in the last reshuffle.
He also pointed out that some people were targeting him in his constituency. The other day, Vasantha Nageswara Rao made some disparaging comments against the YSRCP government. This has created a furore in the YSRCP circles. The YSRCP leadership has sought his explanation on these comments.