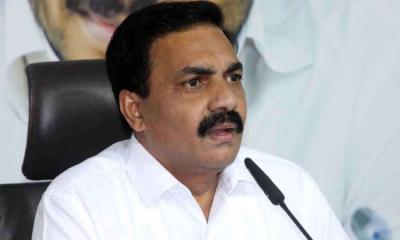 The sensational evidence theft case involving Andhra Pradesh Agriculture Minister Kakani Govardhan Reddy took a big turn as the Andhra Pradesh High Court gave orders giving the case to the central agency Central Bureau of Investigation for further probe. Based on the report submitted by the Nellore district Judge.
In the report, the Justice reportedly said the police investigation did not go in the right direction and it would be good if any independent agency is given the responsibility of probing the matter. Taking suo moto cognizance of the matter the High Court gave the matter to the CBI.
Hearing the Public Interest Litigation (PIL) on Thursday, the Andhra Pradesh High Court gave the orders asking the CBI to probe the matter. Chief Justice Prashant Kumar Mishra issued the orders.
The theft case raised many eyeballs as the pieces of evidence in the sensational forgery case against Minister Kakani Govardhan Reddy were stolen from the Additional Judicial Magistrate Court-IV in Nellore city. Though the case popped up a few months back no proper developments have taken place as of now.
Robbers barging into the Magistrate Court happened for the first time in the state probably. The case raised many doubts as robbers stole only the shreds of evidence that are against the Cabinet Minister. Who told the robbers that only certain evidence should be touched.
On top of this, the theft happened after MLA Kakani Govardhan Reddy became the Cabinet Minister and took oath as the Minister. The story said by the cops also started a few doubts. Entering Magistrate Court premises is not a small crime. A few old criminals were arrested in the case.
A forgery case was slapped against Kakani Govardhan Reddy when he made allegations against the then Agriculture Minister Somireddy Chandra Mohan Reddy that he bought a bunch of properties abroad and the worth of the properties are hundreds of courts.
As Govardhan Reddy reportedly submitted forged documents to back the allegations he made against the Telugu Desam Party a forgery case was filed. When the case investigation was going on at a good pace the evidence was lost.