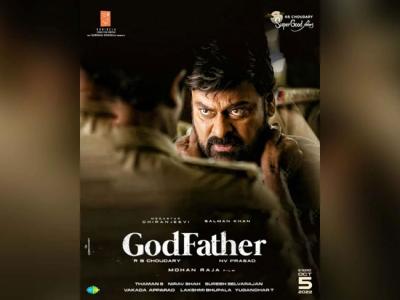 As we know, 'Godfather' released on October 5th and got a positive talk. It had a very long first weekend and with other Dasara releases ending up as failures, it had a free run at the box office. Within the first weekend, the film grossed over 100 crores but the collections started dropping drastically and it ended up far away from the profit zone.
'Godfather' is a remake of Malayalam super hit movie 'Lucifer' and people who saw the original lashed out at the changes in the Telugu version while the regular audience liked the movie. With the collections not up to the mark, the movie is being called as a flop by many but it looks like the movie is getting its due reception on OTT platform now.
Netflix bought the digital streaming rights of this movie for a very good prize and the popular OTT platform released the Telugu and Hindi versions recently. It looks like all the positive talk about 'Godfather' during its release worked out big time as people who didn't saw the movie in theatres have turned towards Netflix. While the Hindi version is trending in the No.1 position while the Telugu version occupied the 3rd place. Experts say that the movie is going to stay in the Top 5 for the next couple of weeks.
Nayanthara was seen as Megastar's sister in this flick while Thaman composed the music. Apart from Chiru, Satyadev got a lot of praise for his acting and Nayanthara is great as always. Directed Mohan Raja received a lot of accolades for handling a remake in the perfect way and making the fans happy whilst retaining the magic of the original.
Note: Your feedback is very important to us. Post them in the comments box down below. Be sure to give us your opinion no matter what. Please do not use abusive language. There are better ways to speak your mind.