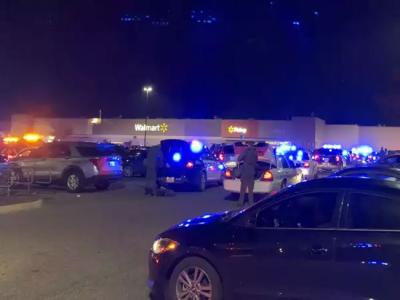 Land of opportunities America is a developed nation and it is also a superpower nation. As there is a notion that America plays a big brother role, the country tries to give suggestions to others. We have seen how America tried to stop India from buying fuel from Russia. But it could not do it and even expressed its dissatisfaction with this.
Despite all this, America has a long pending issue with gun violence. At regular intervals, the superpower nation sees shooting incidents. Yet again gun violence rocked the country as six people lost their lives.
The Virginia State saw a tense situation after a shooter opened fire at a Walmart. Including the assailant, around six people breathed their last as per the information shared by the concerned Police. The issue happened late Tuesday.
The Walmart store is in the Chesapeake area. Despite the shooting, the store is in a safe place now as no damage was reported. The concerned police said that an active shooter started a fire and the assailant also died in the incident.
"Chesapeake Police confirm an active shooter incident with fatalities at the Walmart on Sam's Circle. The shooter is deceased," the concerned authorities said on Twitter sharing the details.
The cops say that the attacker reached the Walmart and opened fire. Around six people are believed to have breathed their last including the gunman. After receiving a complaint about the gunfire the cops reached the spot and then the situation came under control. It is said that the accused died of injuries caused by bullets that came from his gun.