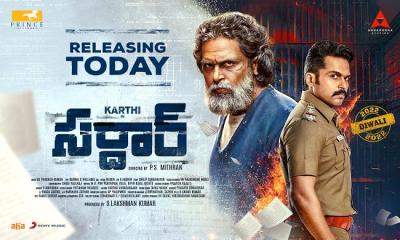 'Sardar' Movie Review
Cast: Karthi, Raashi Khanna, Rajisha Vijayan, Chunky Pandey, Munish Kanth, Laila and others
Music: GV Prakash Kumar
Cinematography: George C Williams
Producer: Lakshman Kumar
Writing - Direction: PS Mithran
Tamil star hero Karthi is on a roll lately. He is arriving with back-to-back films in the last couple of months. After 'Viruman' and 'PS – 1', he is arriving as 'Sardar' now. Karthi is known for selecting unique scripts and he has a lot of following in Telugu. PS Mithran who impressed the Telugu audience with 'Abhimanyudu' is directing 'Sardar'. Let us see how the spy thriller turned out.
Story:
Police officer Vijay Prakash (Karthi) is an orphan. With his father being framed as the person who betrayed his nation, his entire family commits suicide. Vijay Prakash is the only one who survives and a police constable raises him. He becomes an SI but the image of his father never leaves him. At this time, he starts to investigate the death of Manga (Laila). This is related to the revolutionary Water Pipeline project laid at that time. He finds out that Manga is murdered and knows that there is a huge scam behind it. Manga works for a secret network and they search for a man named 'Sardar'. What happened to Manga? What did she find out? Who is 'Sardar'? What does Vijay Prakash do now? All these questions will be answered in the movie.
Analysis:
There was a time when Tamil movies stunned the audience. They have a knack for coming up with stories from the regular happenings we witness in our society. They do a lot of homework before readying a script and they used to impress every person. Telugu audiences who used to like such new content have encouraged most Tamil movies. But those standards have fallen down drastically. A lot of routine masala movies are arriving these days in Kollywood which are failing to impress the Telugu audience. But there are a few filmmakers in Tamil who suddenly spring up with a high-quality movie. PS Mithran is one such director who amazed everyone with his work in Vishal's 'Abhimanyudu'. He showcased what happens when all our details are made available on social media. The cybercrime concept is presented in the most wonderful way. Mithran did decently with his movie 'Shakti' with Siva Karthikeyan and proved his worth once again with 'Sardar'. With a good performer like Karthi at his disposal, he delivered a spellbinding spy thriller.
Much like 'Abhimanyudu', 'Sardar' too is linked to a social issue. It is quite unique as we get to see how we are falling into a dangerous trap unknowingly and shows how it may affect the future. We used to drink water directly from lakes and rivers but we are drinking water from bottles, Tanks and cans. This is all due to water mafia and there will be wars internationally for water in future. This is the point 'Sardar' deals with. The team exaggerated it in order to make it more appealing but people are sure to think for a second before drinking from a water bottle after watching this movie. One may think that 'Sardar' may feel like a documentary going by the serious issue they dealt with the director narrated it in the most engaging and effective manner. He followed a few commercial movie norms too but still stayed true to the movie's story. 'Sardar' may not gain your attention straightaway but the pace picks up heavily once the main story is touched.
People get glued to their seats as soon as the villain appears. Trying to get a hold on natural resources like water and explaining the bad effects of using water bottles and other scenes explain the research Mithran did for 'Sardar'. They grab your attention and makes you think and even makes you fear about the future. While the narration is a bit all over the place, the portions revolving around Laila's character arrest the viewers. The build-up given to 'Sardar' character makes the viewers very curious. The huge elevation Mithran gave to 'Sardar' character before the interval point is just amazing. While one may think how a 60-year-old man can do those things, the masses are sure to go bonkers in the theatres. The flashback scenes of 'Sardar' character who is a spy have been handled quite well. The drama works out quite well as his secret missions, personal life and ending up as the guy who betrayed his nation makes the audience get connected to the character. How Sardar escapes is also showcased effectively. After a while, the young Karthi gets side-lined and we only get to see 'Sardar' character and his heroics. This character engages you till the very end. The director made sure that there are thrilling moments at regular intervals. The grand scale of pre-climax and climax impresses you big time. But the huge canvas of the story and the pumping of a lot of information and big runtime are a few problems the film suffers with. But the film amazes you and thrills you a lot of times. 'Sardar' is a film that gives you a different experience whilst not ignoring the commercial elements.
Performance:
Karthi gets these kinds of scripts because he never fell into the image trap. That is why he scored blockbusters with movies like 'Khakee', 'Khaidi' and now 'Sardar'. These are milestone films in his career. He acted on a level that the other heroes may get jealous. His role demands a lot of variations and intense acting skills. Karthi gave a wonderful performance in a film that doesn't come to big heroes regularly. He dominated the entire movie with his performance.
Chunky Pandey did good as the main villain. Rajisha Vijayan had less screentime but leaves a lasting impact. Raashi Khanna looked gorgeous on screen and did decently in the role given to her. Munish Kanth impresses you in his supporting role and Laila too delivered a good performance. The small kid in the film will surely remain in the hearts of viewers for a long time.
Technicians:
GV Prakash Kumar breathed life into the movie with his terrific background score. His re-recording is what drove the people into the scene whether it is a hero elevation scene or a crucial scene for the story's progress. While there is no significance to songs in this film, he did a decent job with them. The other highlight of this film is the visuals by George C Williams. The production values are top-notch, to say the least.
Writer-director PS Mithran showed his mark once again. We understand that he means business just within a few minutes after it starts. The screenplay and story was great in 'Sardar' and the filmmaker's hard work is visible in every frame. He narrated such a grand story on a grand canvas with a gripping screenplay and it requires a lot of praise.
Verdict: 'Sardar' – The Winner
Rating: 3/5
Disclaimer : This Review is Just An Opinion of One Person. Please Do Not Judge The Movie Based On This Review And Watch Movie in Theater