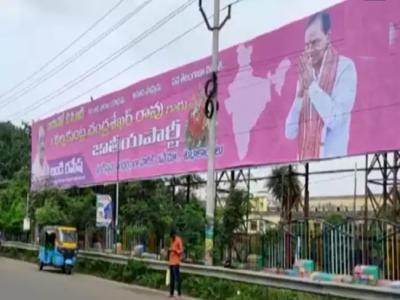 CM KCR is aiming to achieve what no regional leaders in recent times have managed to do. He is focusing on entering the big stage of national politics. As part of the efforts, he changed the name of TRS to BRS. For the past few days, we have been hearing stories about the same.
KCR announced the development, in the presence of party leaders and leaders of other states. Not just that, the party also announced that BRS will start its first big fight by trying its luck in the upcoming general elections in Gujarat.
This will be a direct fight between BJP and BRS as Gujarat has been a strong fortress of the saffron party. The party has been in power in the state for over three decades. Narendra Modi was the Chief Minister before he became the Prime Minister.
On the occasion of KCR's new announcement, flexes congratulating the Chief Minister for this were erected in Andhra Pradesh. The flexes were set up in the busy locations of the temple city Vijayawada. In multiple locations, the flexes were set up. The flexes appearing in Andhra Pradesh are interesting.
The national party needs leaders from every state and Andhra Pradesh is no exception. Earlier media reports said that TRS is in search of leaders who can be a part of the party in Andhra Pradesh. Some of the aspirants might have set up the flexes.
The news of flexes might have reached the notice of Telangana Rashtra Samithi leadership and top leaders. The aspirants might have felt that with the flexes they can come into the good books of the TRS and they can be considered.
Note: Your feedback is very important to us. Post them in the comments box down below. Be sure to give us your opinion no matter what. Please do not use abusive language. There are better ways to speak your mind.