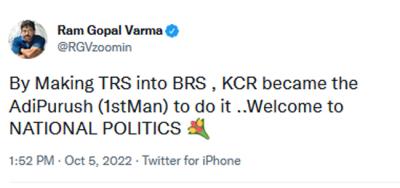 Telangana Rashtra Samithi founder-chief KCR is not a state leader anymore as he has been trying to emerge as a national leader. As a big move to become Desh Ki Neta, he announced a name change in his party- from TRS to Bharat Rashtra Samithi, hinting that he is focusing on national politics.
Earlier today, KCR announced at the party meeting that the party name was changed. The announcement made the leaders present at the meeting cheer. It's been over two decades since TRS was founded and two decades later, it emerged as the national party.
While the TRS leaders are celebrating the news, maverick filmmaker Ram Gopal Varma reacted to the news and said he is welcoming the Chief Minister into national politics.
In his tweet, RGV said that KCR became AdiPurush, the first man by making TRS into BRS, and welcomed him. "By Making TRS into BRS , KCR became the AdiPurush (1stMan) to do it ..Welcome to NATIONAL POLITICS," he tweeted.  
However, it is not sure whether the director really congratulated the Chief Minister or indirectly took a dig at him. Earlier too, RGV made such tweets against a few leaders. However, there is no clarity on whether the new tweet falls under the category or not.
A few supporters of TRS are saying that the director is congratulating KCR. They are sharing the old tweet made by RGV in which he expressed confidence that KCR would become a Pan-India politician.
Note: Your feedback is very important to us. Post them in the comments box down below. Be sure to give us your opinion no matter what. Please do not use abusive language. There are better ways to speak your mind.