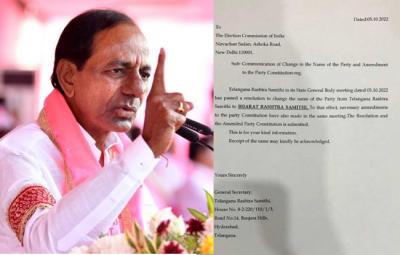 For the past few days, we have been hearing a lot about Telangana Chief Minister KCR's entry into national politics. It was also said that we might hear a big announcement from the Chief Minister on this on Wednesday on the big occasion of the Dasara festival.
Making the reports true, KCR announced the change in his party. At a party meeting where the executive members and the legislators were present, KCR announced that TRS is now Bharat Rashtra Samithi(BRS). For this, a few changes were made to the party constitution. A letter was also sent to the Election Commission of India.
It is known that KCR has been gathering support from other parties too, As it was fixed that KCR would make the big announcement today, the leaders who are supporting him reached Hyderabad the other day and they were also present at the meeting when the new name was announced.
Reports say that for easy recognition in other states the name change was announced. As a letter was sent to the Election Commission of India, the top election body will issue a party symbol making sure that no other parties will have an objection.
Shortly after the announcement, Telangana Minister of Prohibition & Excise V. Srinivas Goud made a big announcement that the BRS will contest the upcoming general elections in Gujarat and the party will start campaigning there.
KCR intensified his efforts to enter national politics to take on the saffron party BJP and Prime Minister Narendra Modi. Now the Chief Minister is reportedly gearing up to make the big fight in Gujarat, the strong fold of the BJP. It is the home state of Narendra Modi and Union Home Minister Amit Shah.
Before becoming Prime Minister, Narendra Modi served as the Chief Minister of Gujarat. Before the 2014 polls, the Bharatiya Janata Party used the Gujarat model extensively as a vehicle to promote the party.
In the same place, the TRS is trying to do its first battle in Gujarat, which has been a strong fortress of the saffron party for over three decades. BJP, Congress, and AAP are busy with a campaign already.
Note: Your feedback is very important to us. Post them in the comments box down below. Be sure to give us your opinion no matter what. Please do not use abusive language. There are better ways to speak your mind.