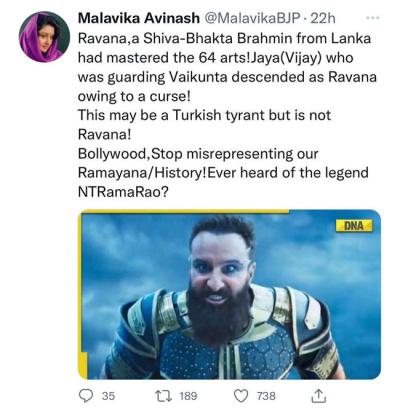 Adipurush is one of the much-awaited films given the fact that Pan-India star Prabhas and Tanhaji: The Unsung Warrior fame Om Raut joined hands together for a film. Moreover, the film is based on the Hindu epic Ramayan. Common audiences and Right-wing people pinned high hopes on the film that it would be on a bigger scale.
Putting an end to the long wait, the makers of Adipurush dropped the teaser on Sunday. The teaser did not go well with many and the netizens are wondering why the makers spent so much money to offer bad VFX and not-so-good visual effects.
The Right-wing supporters and Bharatiya Janata Party leaders are lashing out at the makers on what they showed in the teaser. The way Ravan was represented and lord Hanuma was shown raised many eyeballs and the BJP leaders are breathing fire on the makers of Adipurush.
Malavika Avinash who was not impressed with the portrayal of Ravana asked what research the makers did on the character. Quoting the examples of old films, she said the makers should have looked at the old films and taken some notes.
Asking Bollywood to not misrepresent Ramayana, the BJP leader asked the makers if they had heard of NT Rama Rao, Dr. Rajkumar, and SV Ranga Rao who portrayed Ravana with authenticity.
It has to be noted here that the old films set a benchmark on how to portray epic roles. The likes of NTR, Sobhan Babu, and others portrayed Lord Rama on screen and won many applauses. NTR portrayed both Rama and Ravana and impressed many. It is no wonder that the Karnataka-based actor-politician quoted examples of Telugu actors.
"Ravana,a Shiva-Bhakta Brahmin from Lanka had mastered the 64 arts!Jaya(Vijay) who was guarding Vaikunta descended as Ravana owing to a curse!This may be a Turkish tyrant but is not Ravana! Bollywood,Stop misrepresenting our Ramayana/History!Ever heard of the legend NTRamaRao?," Malavika Avinash said on Twitter.
"Exactly! The great NTR or SV RangaRao gaari... what do these guys even know! They don't do basic research, forget of Ramayana, at least of our own films???," the BJP Spokesperson said in another tweet.
Note: Your feedback is very important to us. Post them in the comments box down below. Be sure to give us your opinion no matter what. Please do not use abusive language. There are better ways to speak your mind.