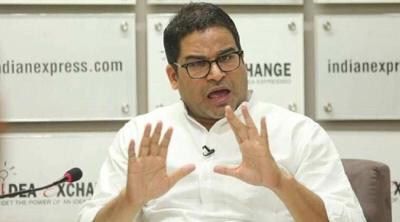 Advising politicians on election strategies and image building is one thing and doing politics yourselves is quite another.  And master political strategist Prashant Kishor is learning this lesson the hardest way. His Jan Suraksha Abhiyan, launched on October 2, has surely taught him a tough lesson or two.
PK wanted to launch his padayatra in style by organizing a massive public meeting. Accordingly, all arrangements were made. Everything needed was provided for. But, one thing was missing. It was the crowd. There were not even a hundred supporters at the public meeting. It was a complete dud. So, PK had to abandon the idea of a public meeting and launch himself into the padayatra.
But the response to the padayatra was no better either. There were no crowds at all. The fact is that not many people know who PK is. In fact, he has always been a backstage man and always worked from behind the curtains for some popular political figure. When he himself took to the streets, there was hardly anyone who recognized him.
Analysts say PK had over estimated his strength and failed to assess his popularity. His strategies may have worked for others, who have a support base and a vote-catching charisma. But, his medicine, it appears, does not work for himself. Now PK is said to be reassessing as to whether to go ahead with the padayatra or not.
Note: Your feedback is very important to us. Post them in the comments box down below. Be sure to give us your opinion no matter what. Please do not use abusive language. There are better ways to speak your mind.