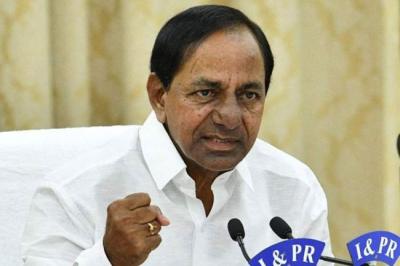 Head of the state Kalvakuntla Chandrashekar Rao aka KCR is busy with his plans to foray into national politics. He wants to make the best use of the negative image and anti-sentiment of the saffron party Bharatiya Janata Party. There is also a criticism that banking on others' issues might not help KCR.
No matter what the political experts say, KCR is not taking a backstep and he is focusing on his national politics dream. He understood that he cannot make a change in national politics alone and he is gathering support from like-minded leaders. He already met a few Chief Ministers.
Now it is said that Chief Minister KCR reportedly fixed the time for announcing his national party. Reports are abuzz that we might hear something big from KCR on the holy eve of Dasara.
It is known that KCR is a strong believer of God. It was earlier reported that KCR is all set to perform a massive yagam to come to power in the state for the third consecutive term and for national politics too.
A few years back, KCR performed a massive yagam by inviting priests from various states. His action brought severe criticism from the opposition as they asked what is the need of doing such things by spending public money. It took around eight years for his brainchild-renovating the YadagiriGutta to get completed.
Following the same trend, KCR is believed to have fixed Dasara as the time to announce his national party. Going by his belief in god, he is believed to have met a few priests and fixed an auspicious muhurat to announce the national party.
Note: Your feedback is very important to us. Post them in the comments box down below. Be sure to give us your opinion no matter what. Please do not use abusive language. There are better ways to speak your mind.