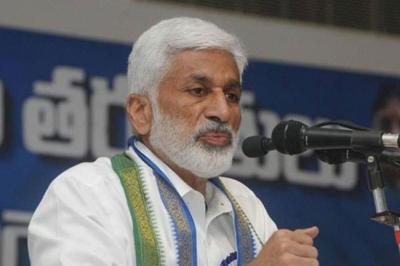 The Vizag Railway Zone is a sensitive topic as far as Andhra Pradesh politics are concerned. Any news related to the topic will surely increase the political heat in the state without any doubt. Recently, it was reported that, at a key meeting, the Union government reportedly said, the railway zone cannot be granted to Vizag.
YSRCP Rajya Sabha member Vijay Sai Reddy reacted to the news and said that, if the railway zone is not granted then he will resign from the Rajya Sabha position. The ruling party member said the Railway zone was promised by the Andhra Pradesh Reorganisation Act.
Vijay Sai Reddy rubbished the reports of the Union Government saying no to the railway zone. The Rajya Sabha member said that at the meeting held to discuss the unsettled things between Andhra Pradesh and Telangana, the Railway Zone issue did not pop up
Not just that, Vijay Sai Reddy expressed confidence in Vizag getting the Railway Zone and the issue was listed in the Reorganisation Act. Having said that, the Rajya Sabha member said if the railway zone is not granted then he is ready to resign.
Railway Zone is a long pending demand from the state. With the special status almost getting denied, it is the railway zone that is needed for the state. Given the problematic situation of the economy, the state needs the special category status and we have to wait and see what the BJP does here.
Note: Your feedback is very important to us. Post them in the comments box down below. Be sure to give us your opinion no matter what. Please do not use abusive language. There are better ways to speak your mind.