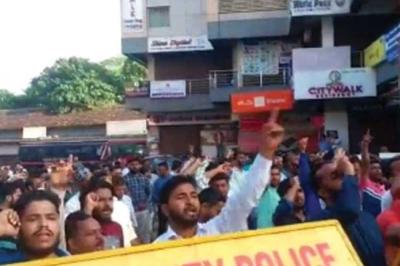 The central agencies have been focusing on the controversial Muslim outfit Popular Front of India (PFI) of late. The alleged terror outfit is accused of planning anti-national activities and training youths for terror acts. Multiple locations were raided by the officials recently and multiple arrests were made. A few big heads of PFI were taken into custody reportedly.
A day after multiple arrests were made, God's own country Kerala is seeing tense situations as the Popular Front of India (PFI) called for a bandh. The members of the outfit reportedly went on a rampage and damaged a few properties including a bus.
Going by the information shared by the national media, a few vehicles including state-run transport vehicles were damaged by pro-PFI people to show their support for the bandh. A few police personnel were also injured in the face-off between protestors and the accused.
The PFI has a strange history. It started with a demand of fighting for reservations for Muslims. In the initial days, the outfit carried out protests peacefully. But things went upside down when the outfit started intensifying its efforts in the fight. The outfit was banned in Kerala.
Despite the ban, PFI is still continuing its fight. From Kerala, PFI's range expanded to other states as well. Till BJP came to power in Karnataka, PFI was active in the state. Of late, the Central agencies are focusing on PFI and its activities.
The Popular Front of India (PFI) is facing strong allegations of trying to harm communal harmony. The Karnataka government alleged that PFI was behind the ruckus that happened in the state due to the Hijab ban issue.
Raids were conducted in various locations across the states and more than 100 people were arrested in connection with the raids. Experts dub the recent arrests in connection with the raids as the biggest crackdown on the Islamic outfit which is facing strong allegations of terror links and the conspiracy of training youths for such activities.
Kerala state came to a standstill with the bundh. The protestors did not spare even the cops as few of them were reportedly injured. The issue is believed to have reached the notice of the Kerala High Court.
Note: Your feedback is very important to us. Post them in the comments box down below. Be sure to give us your opinion no matter what. Please do not use abusive language. There are better ways to speak your mind.