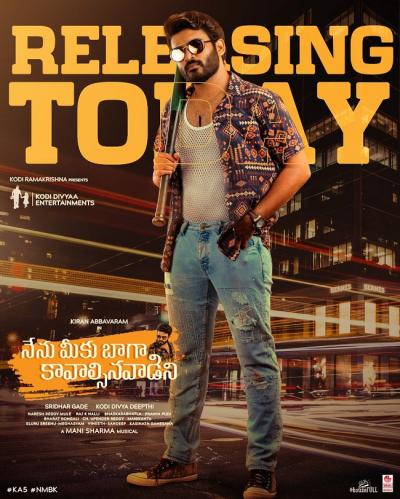 'Nenu Meeku Baaga Kaavalisina Vaadini' Movie Review
Cast: Kiran Abbavaram, Sanjana, Sonu Thakur, SV Krishna Reddy, Baba Bhaskar, Samir and others.
Music: Mani Sharma
Cinematography: Raj Nalli
Producer: Kodi Divya Deepthi
Screenplay – Dialogues: Kiran Abbavaram
Director: Sridhar Gadhe
After earning a decent name for himself with movies like 'Rajavaaru Ranigaaru' and 'SR Kalyanamandapam', young and rising hero Kiran Abbavaram is getting back-to-back failures. Despite that, he is releasing movies in quick succession in order to impress the audience. He arrived with 'Nenu Meeku Baaga Kaavalisina Vadini' under Sirdhar Gadhe's direction. The story is not explained clearly in the trailer. Let us find out how the film turned out!
Story:
Vivek (Kiran Abbavaram) is a cab driver who regularly drops Teju (Sanjana Anand) in her home. She gets completely drunk every day and gets into Vivek's cab. Vivek decides to know what is the reason behind this constant drinking problem. She explains how she was deceived by a guy who said that he would marry her against the wish of her parents. Vivek then explains his breakup story and they develop a good rapport during their conversations. She does home and makes up with his family. Right when Teju decides to propose to Vivek, she gets to know the truth. The rest of the story should be watched in theatres.
Analysis:
Kiran Abbavaram is not a hero with a background. No one knew when his 'Rajavaaru Ranigaaru' released in theatres but the film got a good response when it came out on the OTT platform. Kiran won a lot of appreciation for his natural acting. His next film 'SR Kalyanamandapam' was released with a good craze thanks to the super hit songs. Despite the lack of quality content, Kiran's acting, songs and entertainment made it a successful venture. His last outing 'Sammathame' got weak content too but the openings were quite good for a small hero. The soft corner audiences have towards Kiran Abbavaram is the main reason for it. His mannerism, dialogue delivery and style connected with the youth. When he is getting good encouragement from the audience, he needs to pick good stories and make quality cinema. It is his responsibility but he is not doing it. He is picking one weak subject after another and he has now arrived with 'Nenu Meeku Baaga Kaavalisinavadini'.
Just like 'SR Kalyanamandapam', Kiran wrote the screenplay and dialogues for this film too. One fails to understand what made his excited about this story. Kiran managed to entertain the viewers as usual but the narration didn't have any high points and were way too regular and boring in many places. This disappoints the audience a lot. Showing the groom's point of view when a bride runs away is interesting. Trivikram made a film named 'Chirunavvutho' long back with a similar story and it was a good hit. With a few touch-ups, the team of 'NMBK' came up with the same story. While the concept is nice, the story and screenplay woven around it do not have anything special.
We can understand that there is going to be a song coming now as soon as the hero introduction is done. Through the dialogues, they give the audience a hint that the song is arriving every time. In one scene, a character is constantly irritating the hero and he asks the guy to stop irritating as Melody Brahma is giving such a good background score. It is in reference to Mani Sharma being the music composer of this film. Kiran who wrote and screenplay and dialogues might have thought that they are trendy and funny but characters in EVV films of the 90s used to speak like this. Also, there are a few dialogues that remind people of Jabardasth skits. They look forced and don't please the audience at all.
Half of 'Nenu Meeku Baaga Kaavalisinavadini' is about the heroine narrating her failed love story. The other half is about the hero's failed love story. Both the love stories are atrocious and don't touch you emotionally at any point. The twist at the end is nothing great too. Barring Kiran's acting and a few scenes, there is nothing more to talk about in this mediocre film.
Performances:
There is a lot of ease in Kiran's acting. He can really go places if he selects the right scripts. But doing routine roles on regular basis is surely going to bore the audience. He did not try anything different in terms of acting and stuck to his strengths. His character looks like an extension of his previous films.
Sajana Anand is passable and there is nothing to talk about Sonu Thakur. Senior director SV Krishna Reddy did an important character in the film but it did not suit him at all. Baba Bhaskar tried to do a bit of comedy but it did not work.
Technicians:
Previous films of Kiran used to have good songs but there is not one track that is worth remembering in this film. It is a shock that Mani Sharma is the composer of this movie. Despite his lack of form, no one expects such a basic work from him. His stamp is not seen in the background score too. Raj Nalli's camera work is decent and the visuals looked fine. The production values are adequate and Kiran Abbavaram's screenplay and dialogues did not work out at all. The film failed at the script stage itself and Sridhar Gadhe's taking is not that impressive too.
Verdict: Another Boring Film From Talented Hero
Rating: 2/5
Disclaimer : This Review is Just An Opinion of One Person. Please Do Not Judge The Movie Based On This Review And Watch Movie in Theatre