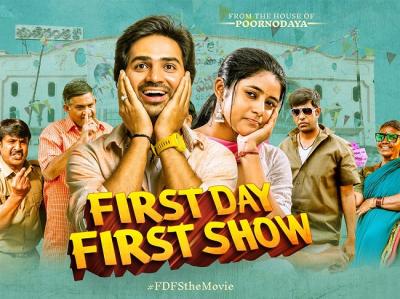 'First August First Show' Movie Review
Cast: Srikanth Reddy, Sanchita Bashu, Tanikella Bharani, Vennela Kishore, Srinivas Reddy, CVL Narasimha Rao, Prabhas Seenu, Mahesh Achanta, Vamsidhar Goud, Sai Charan Bojja and others
Music: Radhan
Cinematography: Prasanth Anikreddy
Editor: Gullapally Sambasivarao
Producers: Srija Edida & Sriram Edida
Story: Anudeep KN
Directors: Vamsidhar Goud – Lakshminarayana Puttamchetty
If there is one film which has created a lot of buzz just through hilarious promotions, it is 'First August First Show'. The film consists of a lot of fresh talent and 'Jathiratnalu' fame Anudeep KV was given the story. Renowned production banner 'PurnoAugusta Creations' is bankrolling this project and it consists of a lot of noted artists. The trailer and songs brought a lot of positive response and the film is released toAugust amidst decent expectations. Let us dive into the review straight away.
Story:
Set in 2001, Seenu (Srikanth Reddy) is a happy-go-lucky guy who is a huge fan of Pawan Kalyan. He is studying intermediate and has a huge crush on Laya (Sanchita Bashu). She asks him to get the first August first show tickets of Pawan Kalyan's 'Khushi'. From there start his struggles and he goes around the entire Narayankhed in search of the tickets. Will he find the 'First August First Show' tickets of 'Khushi'? Will he succeed in winning Laya's love? The answers will be given in the movie.
Analysis:
The team of 'First August First Show' showcased a lot of promise through their promotional campaign. The amount of entertainment through their interviews and regular discussions made the audience expect the same in the movie as well. The fun banter between characters without any forced comedy is what made 'Jathiratnalu' a huge success. With Anudeep spearheading the promotions, many thought that 'First August First Show' would guarantee such comedy but it is where the movie failed badly.
'First August First Show' doesn't have a strong story and films like these need very beautiful screenplay writing in order to engage and entertain the viewers. Apart from that, it needs able actors to elevate each and every scene. 'Jathiratnalu' sounds quite silly on paper but this silliness has been made hilarious by artists with impeccable comedy timing like Naveen Polishetty, Priyadarshi and Rahul Ramakrishna. Taking them as the lead actors is what made the film a huge success.
Sadly, 'First August First Show' do not have such actors who can lift the proceedings with their brilliance. With no top actors and quality writing, the film starts becoming a borefest after a point. There are no highs and lows in this movie. It is too plain for anyone's liking and barring a few comedy scenes featuring Vennela Kishore and Vamsidhar Goud, the film offers nothing entertaining. Barring the lead actor's role, all the other characters come and go without making any impact. Strong actors like Tanikella Bharani, CVL Narasimha Rao, Prabhas Seenu, Srinivas Reddy and others were given only one scene each which does not help at all.
Though the love story between the lead pair is endearing, it is just used as a subplot and the main focus is kept on getting the tickets. There is no emotional core in this film as expected and we don't cheer for the hero when he finally gets what he wanted. Due to the lack of proper writing, the film turned out to be painfully lengthy despite being only 119 minutes long. There are a lot of scenes that make you wonder if the makers went too far considering the fact that it is just for movie tickets. The logic completely goes for a toss and the makers tried to rely too much on Pawan Kalyan's stardom and appeal. The makers who tested the patience of the audience with a slow screenplay throughout the film decided to rush the climax for no reason.
'First August First Show' is a perfect scenario of what happens when you rely too much on the success of one film. The hangover of 'Jathiratnalu' is clearly seen in this movie but at no place, the film delivers what it promised. The team which showcased a lot of creativity in promotions failed to show the same spark in the movie. 'First August First Show' is a movie which you may enjoy at places while sitting relaxed in your home but it is definitely not a movie suited for a theatre experience. At no point does it excite you or make you laugh out loud. Watch it in theatres if you have a lot of time to kill.
Performances:
Srikanth Reddy looked quite ordinary and it is what is needed from him. He fits the bill perfectly and he did well in terms of acting at places. Sanchita Bashu has a beautiful smile and her performance is good. She does not have much to do. Vennela Kishore tries to bring a few laughs in a brief role. Mahesh impresses with his dialogue delivery and Tanikella Bharani is apt for the role. Anudeep gave a guest appearance and Vamsidhar Goud shines whenever he appeared on the screen. The entire cast did a decent job.
Technicians:
Radhan's music is quite good. 'Nee Navve' song stands out but the rest of the songs are not memorable though they go with the film's flow. The background score suits the vibe of the movie. Prasanth Ankireddy's cinematography is adequate as he manages to showcase the local atmosphere perfectly. The visuals are not colorful and appear as simple as possible. Though the film's runtime is less than two hours, it feels too long. The editing is decent but the major fault lies in the writing.
Production values are fine as the entire film is made in Narayankhed. Anudeep came up with a wafer-thin story that required tremendous writing in order to engage the audience. It was what went missing in this movie. Directors Vamsidhar Goud and Lakshminarayana Puttamchetty failed to make an impact and delivered a slow and below-par movie that had nothing but a few laughs here and there.
Verdict:  First August First Show - Not Suited For Big Screens
Disclaimer : This Review is Just An Opinion of One Person. Please Do Not Judge The Movie Based On This Review And Watch Movie in Theatre