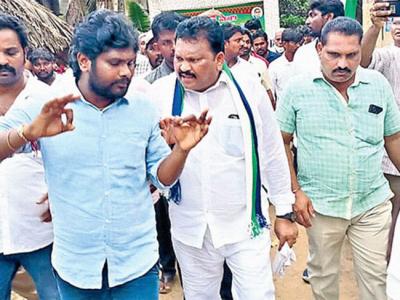 The Gadapa Gadapaku Mana Prabhutvam program continues to give a tough time for the ruling party legislators in Andhra Pradesh. Many legislators went through a difficult experience as people showed them stars while they met them as part of the door-to-door campaign in their respective constituencies.
Many legislators including the Cabinet Ministers faced the heat from the victims. Despite facing a tough time, Ministers like Roja went through a rare situation where she was asked by an old man to look for an alliance as he is unable to stay single.
As another example, a senior MLA went through the experience. This time a party activist lashed out at the MLA and shot many questions as far as the development in the region is concerned. Unable to answer his questions, the MLA quit the meeting mid-way.
Going into detail, P.Gannavaram MLA Kondeti Chittibabu faced a lot of questions on many pending issues in the constituency. Not the locals, a senior party activist shot the questions this time. One Gosagi Kumarswamy, who has been a party activist of YCP for quite some time questioned the MLA. As a response, the MLA reportedly said the activist cannot question him.