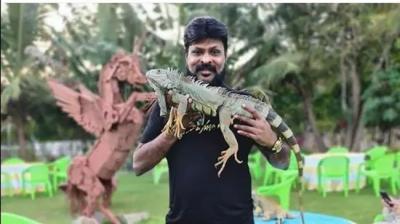 Casino Agent Chikoti Praveen based in Hyderabad needs no introduction now. After the ED questioned him over the alleged irregularities in casino activities and the money laundering angle, he became a popular face. For the past few weeks, he has been in the news with the Casino row and people are talking about him and the case.
Though there is no official confirmation, media reports say that he has links with big shots with MLAs and ex-MLAs as he used to gather money for the legislators for casino activities by converting the black money. The ED is stressing on the same angle. Chikoti Praveen was already grilled by the ED.
Adding fuel to the debate that he has links with high-profile people from politics, Chikoti Praveen said that VIPs and VVIPS attended the casino activities. When the reporter tried to get the names, he said he cannot take the names.
Reacting to the allegations, Chikoti Praveen said that his accounts and clean, and there is nothing to worry about this. He even alleged that a few people are doing recce around his house and he is receiving threatening calls.
His recent interview with a popular channel and his comments made many link both statements. In one statement, Chikoti Praveen said he is receiving threatening calls. In another statement, he observed that there are VIPs and VVIPs at the casino activities and he cannot take their names. If we connect both statements we get a doubt that he is not giving names due to the alleged threatening calls.