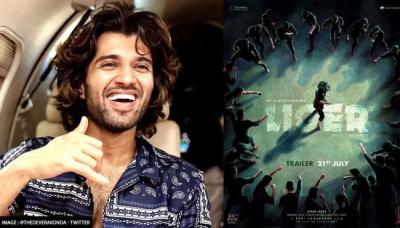 The promotions of 'Liger' are going on at full swing and Vijay Deverakonda along with Ananya Pandey are giving numerous interviews along with touring across the country. During a recent Q/A session, Vijay revealed a lot of interesting facts about this action entertainer.
Talking about 'Liger' being a remake of Puri's hit film 'Amma Nanna O Tamil Ammayi', he said, "I like Amma Nanna O Tamil Ammayi a lot. But Liger is a different movie. The sport MMA is different from boxing. Mother-son bonding is going to be the major USP. There are lots of other elements in this movie. I'll Never Do Remakes in fact, don't like doing remakes."
He said that the mother-son bond is going to be the main USP. He added, "The songs in the movie were composed by Bollywood composers. However, the story is pakka Telugu. It's the story of a mother-son who go all the way to Mumbai from Karimnagar. We wanted to tell this story to entire country."
According to Vijay, 'Liger' is apparently his hardest film till date. He said, "It's the most challenging film I've done in my career. Physical training, the mental stress was there all through. I pushed all my boundaries for the film. I thought the transformation can be done in 2 months. I couldn't see much change in my body, after 2 months. So, I took more time. In between, we shot the scenes, which didn't show my body. Learning fights and dances was other big thing."
Talking about expectations, he stated, "I'm confident that, we'll definitely reach all the expectations. I always wanted to do big. Pelli Cjoopulu was a big achievement for me. Then, Arjun Reddy and Geetha Govindam turned out to be much bigger hits. Liger is a terrific content with high in most of the scenes. It's our duty to bring audience to theatres. Once they come, they'll definitely enjoy the movie."
He expressed his gratitude for Karan Johar. He told, "Karan spoke with me after Arjun Reddy. He told me that, he wanted to make a Hindi movie with me. But I was not ready to do Hindi movies then. When we decided to do Liger in Hindi, I called him. Karan okayed it without even listening to the script. Though we narrated him the story later. We're promoting the movie India level, because of him."
'Liger' will be released on a pan-Indian level on 25th August. Ramya Krishnan will be seen as Vijay's mother while Mike Tyson plays a key role.