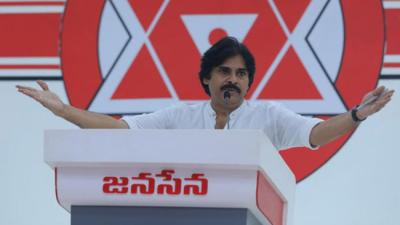 India is celebrating the landmark 75th Independence Day today. Back in 1947, India became Independent from British rule. Since then India has been celebrating Independence Day every year. As today is the landmark day, massive arrangements were held and the whole nation is celebrating the big day.
Just like all the other political parties, Pawan Kalyan's Janasena also celebrated Independence Day. Party chief Pawan Kalyan participated in the celebrations and hoisted the tricolor in the Mangaalgiri party office.
After the flag hoisting, Pawan Kalyan made some interesting comments. Saying that position should come to us and we should not run after the posts Janasenani maintained that he would have become an MP if he wants to but he did not go for the option. Referring to Praja Rajyam Party launched by his brother Pawan Kalyan said that he would have become an MP in 2009 itself if he wanted to.
But what caught everyone's attention is his claims of closeness with the Prime Minister. Pawan Kalyan said that he can ask for a post directly with Prime Minister but he is not doing so as he cannot trade the love his fans have towards him with the post.
It is known that Janasena is in alliance with Bharatiya Janata Party in Andhra Pradesh and both parties even contested a few polls too. However, every time Janasena made the sacrifice. During the GHMC polls, BJP forced Janasena to back out from the election.
Despite all this, no one knows if really Pawan Kalyan has that much closeness with Prime Minister Narendra Modi that he can ask for a post. Moreover, the BJP has this mindset that the friendly parties should listen to it.
After Shiv Sena developed issues with the saffron party Bharatiya Janata Party after the general polls, BJP waited for around two years to teach the Maharashtra-based Shiv Sena a big lesson. Seeing that Shiv Sena's strong leader Eknath Shinde turned rebel, BJP went into touch and offered help. With the BJP's help, Eknath Shinde became the Chief Minister of Maharashtra. One wonders how BJP a party with such a mindset would offer an MP seat.