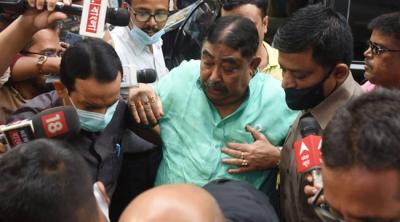 Whatever could be the reason, the ruling TMC suffered a big shock as its heavy-weight leader Partha Chatterjee was arrested by the Enforcement Directorate in connection with the alleged teacher recruitment scam in West Bengal. The development forced the TMC to go for another Cabinet expansion to fill the vacancy.
While people are still talking about this, another central agency gave a big shock to TMC as a key leader was arrested. Earlier today, the Central Bureau of Investigation (CBI) arrested Trinamool Congress (TMC) leader Anubrata Mondal in connection with his alleged role in the cattle smuggling case.
It is said that the CBI served him summons twice but he did not respond. Following this, the CBI sleuths and central forces went to his residence and arrested him. He was reportedly taken to the camp office for further questioning.
It has to be mentioned here that the CBI is aggressively probing the West Bengal cattle smuggling case. After their investigation guided them to the residence of the TMC leader, he was arrested. The CBI is saying that 62-year-old Anubrata Mondal has a bigger role to play in the scam.
Based on the call data of the two accused who were arrested earlier, the TMC leader is arrested reportedly. This is a big blow to the ruling party as he is very close to Chief Minister Mamata Banarjee as he has been traveling with the party since it was founded.
Needless to say, the TMM is alleging that the arrest is a political conspiracy by the Bharatiya Janata Party. Not just that, the ruling party in the state is also alleging that the saffron party is using the central forces to target the opponents. No matter what, we have to admit that the central agencies are giving sleepless nights to TMC.
The alleged cattle scam dates back to 2020. The CBI has found that cows are being smuggled to Bangladesh in illegal ways and then they are sold there. It is also said that the accused gave money to the BSF officers to let the cattle pass through the borders. As per the version of the CBI, the prime suspects in the case are Muhammad Enamul Haque, Anarul Sheikh, and Muhammad Gulam Mustafa. The TMC leader is also part of the scam reportedly.