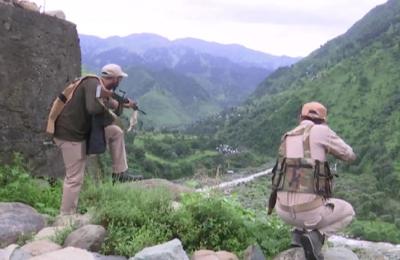 India is gearing up to celebrate the 75 years of independence day this month and the arrangements for that are underway. As a never-before celebration, the Indian government planned the Azadi Ka Amrit Mahotsav program to glorify the achievements of the nation and its culture. With Independence day approaching, the intelligence predicted that there could be a possible attack.
Making the news true, after a terrorist planned an attack making Indian troops the target. While the Indian troops gave a strong counterattack, three soldiers sacrificed their lives for the motherland. Two terrorists were killed in the attack.
Going into detail, a suicide group attacked the army company operating base in Jammu and Kashmir's Rajouri district. The terrorists took the lives of three soldiers and in return, the forces killed the two suspects.
When the terrorists were trying to cross the Army camp fence at Pargal, the troops warned them, and then started firing. The firing happened from both sides and the suicide group claimed the lives of three soldiers. The other soldiers who were altered with the bullets sound killed the suspects.
Besides life loss, the Indian camp also reported injuries as a couple of Jawans were injured in the attack. The officials shifted them to a nearby hospital facility for treatment. As per the information shared by the news agency ANI, Subedar Rajendra Prasad, Rifleman Manoj Kumar, and Rifleman Lakshmanan D made the ultimate sacrifice.
After the attack, the camp officials focused on surveillance and ordered a better exercise of duty. Following this, the jawans are only letting the vehicles pass through after a detailed checking. Though the commuters had issues with delay in their journey, they understood the situation and co-operated with the jawans.
On the other hand, security has been increased in the area and additional forces were also deployed as a safety measure. It has to be mentioned that, the other day, the Indian troops killed three Lashkar-e-Taiba terrorists. One of the deceased terrorists is believed to have played a role in killing Rahul Bhat and Amreen Bhat. The killings of the civilians caused a big uproar and the locals threatened the government that they would leave the valley if the security is not increased.