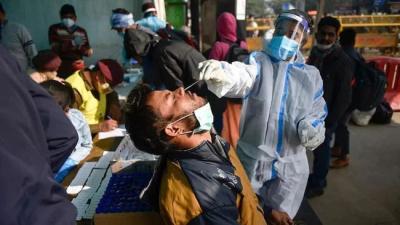 The Covid fear is not over yet. Coming to India one or the other region always sees high cases. During the first two waves, God's own country Kerala and Maharashtra contributed to the lion's share of Covid cases. Now it's the turn of the national capital Delhi to see more cases when the rest of the country is doing fine.
When the country is having relief from the Covid cases as the virus spread is not that serious, Delhi is facing the wrath of the Covid pandemic. For the past few days, Delhi has been seeing more than two thousand Covid single-day infections. This made the health officials fear the consequences.
The constant rise in the single-day cases made the health officials check the samples in the best possible way. After sending the samples for a lab test, the authorities were stunned to see that the Omicron variant which comes with a high transmission rate is leading the virus spread.
A recent survey also found that a sub-variant of Omicron is the driving force of the flood of the Covid cases. What's even more concerning is that the virus is said to have infected people even though they got the vaccine doses. Though the severity is not that serious, the virus is infecting more and more people.
Drawing a comparison between the highly transmissible sub-variant and the other variants, the virus is getting transmitted and daily more than two thousand people are getting infected.
Despite carrying a high transmission rate, the sub-variant is not that severe and those who are coming in contact with the virus are beating the virus in a week. The symptoms are common and there is not much change. However, we cannot come to a conclusion based on the study as only limited patients were made a part of the study.
If the study count is increased and a bigger number of patients were examined, we might get clarity. The authorities are said to be focusing on this as more than two thousand cases are coming out daily. For the past few weeks, the same is the case and the average positivity case also increased which is a big concern.