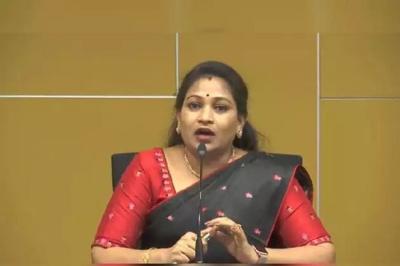 Hindupur MP Gorantla Madhav's controversy took a political turn as the ruling YRSCP and TDP started attacking each other. While the YCP is alleging that the video might be a conspiracy by the opposition, the TDP is aggressively attacking the YCP and its MP on this. The grand old party took the issue to Parliament as well.
Firebrand leader Anitha is taking an active part in attacking Gorantla Madhav. TDP State women's wing president Vangalapudi Anitha has been constantly attacking Gorantla Madhav and she is demanding action. Many say that Vasireddy Padma reacted to the issue due to Anitha's fight.
As Anitha is fighting against the MP in this issue, a person who is said to be a supporter of Gorantla Madhav dialed her and why she s making a fuss out of the issue when the controversy is not proven yet.
While she was speaking to the media, a person called her and she spoke to him in front of the media. The person alleged that Anitha is making a fuss out of the issue and asked her to wait till the issue gets proven. When she said she is just informing others about what happened, the person tried to make her stop talking about the issue.
Hitting back at the phone call she received, Vangaalpudi Anitha made her point here, The TDP leader has a valid point here. She said that the issue is not about who leaked the video call but whether it was the MP or not who was present in the video.