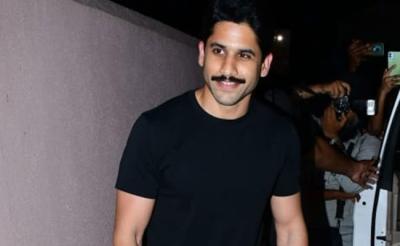 There are a lot of rumours about Naga Chaitanya's personal life. After his divorce with Samantha Ruth Prabhu, people spread the news that Chaitu had fallen in love again and he is daring 'Major' and 'Goodachari' hero Sobhitha Dhulipala. The 'Josh' hero stayed silent on these rumours but was forced to speak by the Bollywood media during the promotions of 'Laal Singh Chadda'.
As we know, he is playing a supporting role in Aamir Khan's upcoming film which is all set to hit the screens on 11th August. This emotional comedy entertainer is the news for a lot of reasons lately. Chaitanya is giving a lot of interviews for his Bollywood debut and he gave a very cryptic answer when questioned about allegedly dating the 'Major' actress. He did not say 'no' and smiled away instead which added more fuel to these rumors.
An interviewer asked whether the 'Majili' actor is ready to find love again. He replied, "Yeah, who knows. Love is what keeps us going. Love is an essential part of life just like how we breathe air. We need to love, we need to receive love and that's what keeps us healthy and positive." These words from Naga Chaitanya are making everyone curious about his personal life even more now.
Previously, he talked about how things are with his ex-wife Samantha. He said, "Whatever both of us wanted to say, we both put out a statement regarding that. That's what I have always done with my personal life anyway. Things that I feel are crucial to be shared and put out, I do inform the media about it, whether it's good or bad. I come out, tell the people about it through a statement and that's it. In our case, Samantha has moved on, I've moved on and I don't feel the need to inform the world about it, more than that."