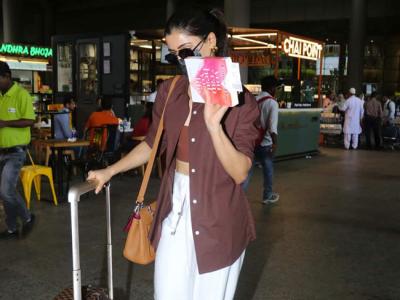 Star actress Samantha has been going strong despite completing 12 years in this industry. She scored a lot of hits and worked with most of the big names in the Telugu and Tamil film industries. She has a huge fanbase and she has a lot of projects in her hand right now.
Samantha completed the shooting of 'Shaakunthalam' which is a mythological drama directed by Gunasekhar. She is also acting in a web series with Varun Dhawan along with being the heroine in Vijay Deverakonda's 'Khushi'. She is also in talks with another Bollywood filmmaker and if things go as planned, she may work with Ayushmann Khurrana. She also doing a thriller film named 'Yashoda' which will be released in multiple languages.
The star actress has been quite vocal about her opinions right from the beginning. She made some revelations about her relationship with her ex-husband Naga Chaitanya which went viral. It became the talk of the town and both of them are being questioned about them constantly.
Sam was spotted at Mumbai airport the other day and she tried to hide her face with a book when the paparazzi were trying to click pictures. What caught everyone's attention is the book that she is carrying. It is a self-help book titled 'You Can Heal Your Life' which was written by Author Louise Hay in 1984. Many started to wonder about the reason why she is reading this book and why she needs to heal her life.
Samantha is often seen reading a lot of books, this particular book has caught everyone's attention. While she might be reading it for her own pleasure, a lot of netizens are coming up with theories of their own.