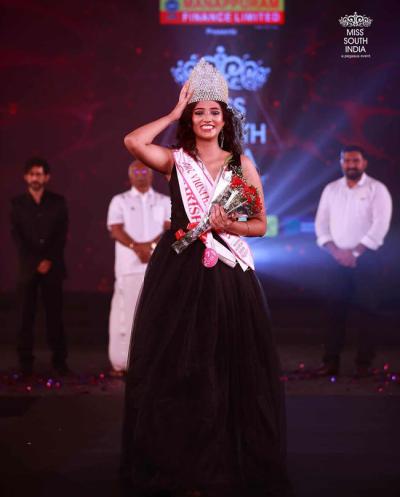 The Miss South India beauty contest is a big platform for young girls to pursue their dreams. Aspirants from the southern states enroll themselves to prove their talent. The 2022 edition of the Miss South India event was held in God's own country Kerala and Kochi hosted the event.
As a big moment for the shore city Vizag, a girl from the city emerged victorious in the event. No less than 20 contestants across the states in the South participated in the event and Vizag girl Charishma Krishna won the beauty pageant.
The winner had happy tears when she was announced the winner. While the other contestants cheered and clapped for the young beauty Charishma Krishna, the event organisers announced the winner's name. The winning moment of Charishma Krishna is doing rounds on social media.
Besides the winning crown, Charishma Krishna received an amount of Rs 1 lakh for winning the crown. Debnita Kar and Samruddi Shetty were announced the first and second runner-ups. The event organisers presented a cheque of Rs 60,000 and Rs 40,000 to the winners.
Looking into her background, Charishma Krishna is a Vizag girl and she is studying at the famous iconic Andhra University. Her interests cover various areas and range across fields like dancing, horsing, and acting. She is a popular dancer too.