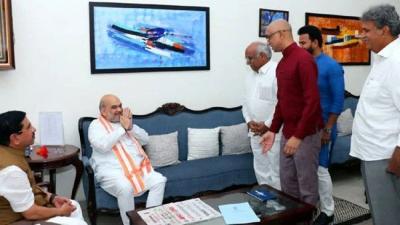 It is not a secret that the Union government led by Bharatiya Janata Party is not concerned about the interests of Andhra Pradesh. After coming to power, the BJP made big claims that it would help the divided state, and Prime Minister Narendra Modi promised help to develop a world calls capital in Amavarai and everyone knows what happened next.
Forget about helping the state, the union government is now accused of not even respecting the MPs from the state. The way, the saffron party Bharatiya Janata Party behaved with the MPs of the Telugu Desam Party is making many believe that the union government insulted the opposition party MPs.
The Telugu Desam Party which supported BJP's candidate in the recent Presidential polls is doing the same with the Vice-President polls as well. Former West Bengal Governor Jagdeep Dhankhar is contesting the Vice-President polls as a BJP candidate and the BJP announced his name recently.
To say that the Telugu Desam Party is supporting the NDA's candidate in the Vice-President polls, TDP MPs- Kanakamedala Ravindra Kumar, Kesineni Nani, Ram Mohan Naidu Kinjarapu, and Galla Jaydev met Amit Shah and Jagdeep Dhankhar.
When they went to meet the duo, Amit Shah did not even get up from his seat when the MPs visited him and folded their hands to greet him. The viral picture shows that the TDP MPs were standing in front of him, while the Union Minister sat in his seat.
It's not that the Union Home Minister did not receive the MPs in a good way. With a happy smile on his face, Amit Shah greeted them by folding his hands. But one cannot understand why the Union Minister did not stand and greet them.
While the MPs greeted the Union Home Minister and the Vice President candidate, Amit Shah did not get up from his seat and those who saw the picture are believing that the BJP did not respect the MPs. There might be issues between Telugu Desam Party and Bharatiya Janata Party. But that doesn't mean the BJP won't respect the MPs, say many who saw the viral picture.