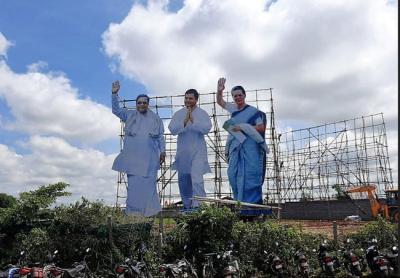 The grand old Congress party is focusing on bringing back the lost glory and it wants to start the exercise in its stronghold. Earlier, it was very strong in Karnataka. But the emergence of the Bharatiya Janata Party made it tough for the party and it kept on losing strength in the state.
As the Karnataka wing of Congress is focusing on reviving the party, the birthday occasion of the former Chief Minister of the state gave a big occasion to the leaders, Needless to say, the party leaders and cadre made massive celebrations and big cutouts were erected.
As today marks the birthday of former Chief Minister Siddaramaiah, big cutouts of Siddaramaiah, Congress MP Rahul Gandhi and party chief Sonia Gandhi were erected. Though the party wants to use the event to show its strength and bounce back, it turned out oppositely.
The event which was supposed to show the strength of the Congress party in the state resulted in the people facing a big jam that stretched for around 6 km. The highway road had traffic jams that the commuters had a tough time while traveling.
Keeping this in simple terms, the former Chief Minister of Karnataka who is celebrating his 75th birthday today gave a gift to the public with a traffic jam of 6 km. The news agency ANI reported that the Pune-Bengaluru highway faced a traffic jam of 6 km.