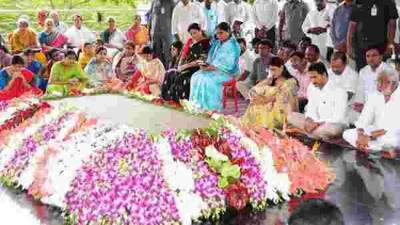 All eyes are now on the upcoming two-day plenary for the ruling YSRCP in Andhra Pradesh. One of the reason behind everyone talking about the plenary is that it will start on the birth anniversary of Chief Minister YS Jagan Mohan Reddy's late father Mahaneta YS Rajasekhar Reddy.
Another big reason for a lot of buzz for the upcoming plenary is the YS family coming together amid reports that things are not going well within in the family members.
It is known that YSRCP and Jagan distanced themselves from Sharmila who floated her party in TS promising to bring back Rajanna Rajyam( her father's ruling days). YSR widow Vijayamma is supporting Sharmila and travelling with her  in her political journey.
Political observers say that, YS family is not in favour of Sharmila's decision and that's why Vijayamma reportedly decided to leave YSRCP so that she can spend good time with Sharmila and support her.
In the wake of this, all the family members will visit Idupulapaya in a couple of days on the birth anniversary of YSR and will take part in offering prayers. On YSR's death anniversary, the family members did not speak to each other reportedly.
After a long time, the family members are coming together. It is said that after offering prayers, CM Jagan will directly head to Tadepalli to participate in the Plenary.
As the party is likely to decide on who gets to take the positions of honorary President and others, we might get some clarity on what position Vijayamma would take. Earlier, it was reported that Vijayamma decided to leave the YCP.