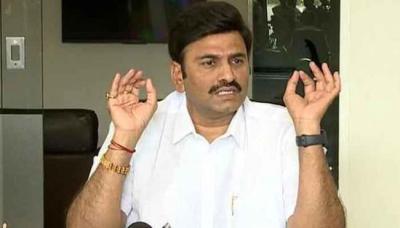 In a sensational development, two of the Central Reserve Police Force(CRPF) personnel, who were deployed as security for Narsapuram MP Kanumuru Raghurama Krishna Raju were suspended on the alleged grounds of assaulting an Intelligence department constable of the Andhra Pradesh wing who was identified as Sk. Farooq Basha.
Along with ASI/GD K. Ganga Ram, CT/GD (jawan) Nanaware Sandip Sadhu was also suspended by the Central Reserve Police Force (CRPF) officials and were directed to report to the battalion headquarters at Greater Noida, Uttar Pradesh.
Now the issue took another big turn as MP RRR alleged a big conspiracy behind this and expressed his doubt about the current Police commissioner of Cyberabad Stephen Raveendra. He said that he took the side of the Andhra Pradesh government with a motto of targeting him.
Media reports say that the MP had written to Telangana Chief Minister and alleged that due to the orders of Stephen Raveendra, the state police filed cases against the CRPF officials. Having said that, MP is believed to have requested the Chief Minister to look into the matter.
Well the allegations made by the MP are serious. Accusing the commissioner is not a small thing. To add strength to his argument, the MP had mentioned who the AP Govt tried to get Stephen Ravindra on Deputation. We have to wait and see what the TS government will say on this.