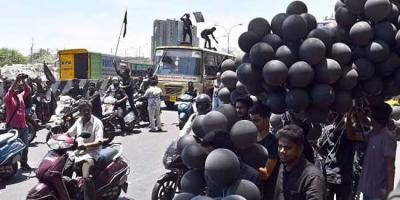 The Congress Party has shocked the BJP by releasing black balloons across the state on the occasion of Prime Minister Narendra Modi's visit to Bhimavaram on Monday. The balloons were released in protest against Modi's visit to AP without fulfilling any of the bifurcation related assurance.
The police arrested Congress leader Sunkara Padmasri and some MRPS activists in Jangareddygudem of the West Godavari district. The Congress alleged that there was no development of Andhra Pradesh after Narendra Modi took over as the prime minister of the country. Another Congress leader J Gurunatha Rao was arrested while trying to attend Modi's meeting with black balloons.
The Congress said that the BJP central government has not released funds for the Polavaram project. The party also said that the BJP at the centre was doing nothing on the capital issue. They pointed out that the BJP has done nothing on the issue of special status to the state of Andhra Pradesh.
Meanwhile, BJP state president Somu Veerraju strongly criticised the Congress Party for its protest. He said the Congress Party was anti-progress and anti-development. He said that the Congress has resorted to a 'conspiracy' on the occasion of Modi's visit to Andhra Pradesh. He demanded strict action against the Congress leaders involved in the act.